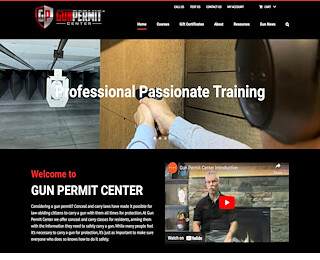 If you have been thinking of obtaining you MN carry permit to protect yourself, your family and your property, this may be the perfect time to receive some additional information regarding how to legally qualify to own and carry a firearm, so that you can take control, should a situation come about where you may need to defend yourself or others. Millions of Americans exercise their right to legally carry a firearm everyday, and this gives them a sense of safety and security, allowing them to enjoy their lives more fully, and worry less about a violent set of circumstances that may happen. The Gun Permit Center offers the most explanatory and comprehensive online and classroom instructions that will teach you all of the safety habits that a responsible gun owner must know, and the laws that must be followed.
The Gun Permit Center is considered the number one rated business in the entire state that can help you achieve your goal of obtaining a MN carry permit, allowing you the protection that you may need someday. In a world that has seemingly spun out of control with the amount of senseless acts of violence that occur every single day, more and more informed and educated Americans are asserting their right to legally own and carry a firearm. There is simply no reason to be caught off guard just because you think that something like this could never happen to you or your beloved family. The fact is, every day in this country bad things really do happen to good people, just like yourself, that could have been prevented if the victim would have been properly armed.
Many firearm owners carry a weapon in their vehicle for protection while on the highways and in the city. If you should be pulled over by a police officer, they may ask if you have a firearm in your car, and you should answer truthfully. Showing the officer a concealed carry permit shows that you have undergone the necessary background checks, and for the state to reasonably believe that you are a law-abiding citizen and are trustworthy enough to carry firearms, putting the officer at ease. If you are pulled over with a gun in the car and have a concealed license, consider giving the officer both your license and your concealed carry permit together immediately, putting off any notion of concern the officer may have over your firearm.
When you are ready to carry through, and receive your MN carry permit, The Gun Permit Center would like to invite you to visit our web site at gunpermitcenter.com to learn more about all of educational classes that we offer, that will allow you the information that you need to obtain and maintain your carry permit throughout your lifetime. On our home page, you can leave your contact information and a brief comment about any questions that you may have. You can also call us at 952.290.0121 to speak with one of our knowledgeable and friendly team members.

Gun Permit Center
(952) 290-0121
786 Riesgraf Rd, Carver, MN 55315