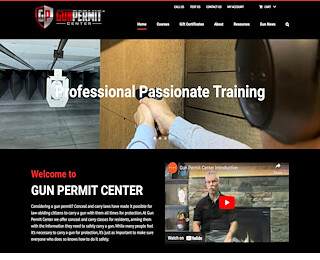 In today's unbalanced society, more and more Americans are asserting their right to own and carry a weapon for their safety and security, should a situation come about where they may need to protect themselves or others that can not protect themselves. These types of scenarios happen to innocent victims on a daily basis, and a responsible gun owner may be the only chance that another person may have on order to survive in a life or death situation. There is no reason that a law-abiding citizen should not be given the opportunity to exercise their right in being able to protect themselves, their families and their property, by obtaining their Minnesota carry permit. The Gun Permit Center has the most informative, explanatory and affordable online and classroom instructions that will teach you how to legally own and carry a weapon.
The Gun Permit Center will show you just how easy it can be to receive your Minnesota carry permit, when you follow all of the laws and requirements that are mandated by the state for you to be able to legally carry a firearm. Without a carry license, you may still be able to contain a firearm in your vehicle, but it will probably need to be unloaded and locked away. There is absolutely no benefit that can be taken advantage of when you have an unloaded weapon that that is locked away, should an emergency present itself, such as road rage incident, or a drive by shooting. It is imperative that you have immediate access to your gun to be able to protect yourself and others, the moment that a dangerous situation is unfolding.
Responsible citizens should have the right to arm themselves against criminals with guns, as violent criminals will always have guns. Rather than being victims, concealed handgun carriers have a sense of safety and security, especially when going outside at night or in dangerous areas, such as a subway or a bus station. Concealed handguns protect people who cannot always rely on the police for protection. A 2013 research article in the Wall Street Journal reported that the average police response time to an emergency call is 11 minutes, with some responses taking much longer, and in Detroit the average response time is 58 minutes. Officers usually arrive long after the perpetrators have fled the scene, leaving the victims to pick up the pieces.
If you would like some additional information on how you can legally obtain your Minnesota carry permit, The Gun Permit Center would like to invite you to visit our web site at gunpermitcenter.com, to learn more about all of the beneficial and educational classes that we offer to assist you in reaching your goal of receiving your carry permit. On our home page, you can leave your contact information and any questions that you may have. One of our professional experts will get right back with you to see how we can help you, or please call us at 952.290.0121 for any further information.
Gun Permit Center
(952) 290-0121
786 Riesgraf Rd, Carver, MN 55315